About Lifeway Tent
We are an ideas driven digital agency. We help brands be more effective online by creating beautiful, useful and clever things.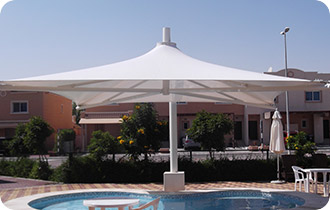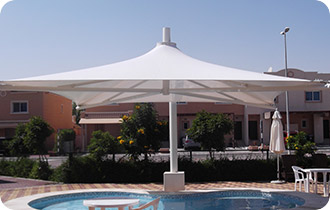 Life way Tents LLC, established and founded in 2006 has built its solid name within the decade for designing, fabricating and actual installation of shade structures all over United Arab Emirates, Oman, mainly among tourist spots in Dubai, Abu Dhabi and among the emirates in UAE. Life way tents has lately extended its range for fabricating state of the art canopy structures as far as Oman and Qatar and still welcoming to facilitate enquiries from all over GCC.
Visual Simplicity, fascinating spatial and light effects, unconventional, curved shapes abd expressiveness- all these characterize constructions featuring technical textiles.
Virtually no other form of construction offers such individuality and design opportunities. No other architecture creates such wide spans with such a minimal use of materials and energy.
Technical textiles are characterised by high transparency and flexibility as well as a low surface weight combined with extremely high tensile strength. They are not only a crucial design element, but are a structurally indispensable part of the overall construction thanks to the pre-tensioning applied. When combines with reinforcing features such as cable structures and steel constructions, membranes can be used to create an almost unlimited number of surface shapes.
Sattler POLYPLAN Architecture Membranes made of high strength, coated polyester are idea building materials.
In connection with bearing structures consisting of the steel and steel ropes, highly stress-resistant and at the same time filigree roof and façade structures can be realized.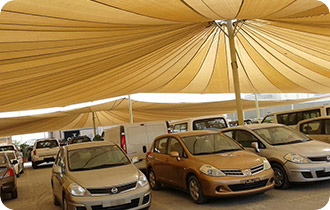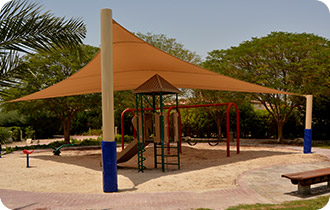 The other type of fabric that we also use is the PVC Fabric Membranes, designed mainly to take range of perfect architecture shade, and has several fabric thicknesses that will best suit structural requirements.(Please see MATERIALS Category for detailed info. We mainly use fabric products from Polyfab, Australia and Gale Pacific, Australia for HDPE Fabric ; Serge Ferrari, France, Mahler Texnologies, Germany for PVC. STEEL STRUCTURES LWT uses Mild Steel or Hot Dipped GI Steel as main support for the shade structure, Steel Sections like Circular Hollow Sections; Rectangular/Square Hollow Sections are chiefly utilized for its stability and flexible uses. This may vary according to your standard steel specifications that LWT would facilitate to implement as required. Aluminum, Stainless Steel, Mild Steel hardware accessories are carefully selected and used for fixing the fabric into its steel support. Such accessories would include aluminum extrusions, shackles, bolts, anchor bolts, brackets and a lot more depending on the type of Shades. FABRICATION & INSTALLATION LWT has its own factory/ facilities for the stitching of fabric which comprises of patterning, tailoring and layout and Welding for PVC fabric.
We have state of the art fabric making and cutting machine (fully computerized) supplied by MIS Gerber Technologies, USA. Steel Fabrication has a division of sophisticated CNC cutting, drilling, welding facilitates, which can handle massive tons of steel per day.