Car Park
One of the most beautiful features of tensile shade structures is the ability and freedom to cover large areas with ease. Years of design and expertise have eliminated any tendency to sag or flap over time, leaving you with a structure that goes up looking great –
With two options, the classic curved Sail or the more modern flat Cantilever, you can be assured of a light and spacious look that adds cover but does not in any way reduce the open feeling. The modular concept still applies, a huge plus to a project like this, as covered areas can be extended should the need for expansion arise.

With steelwork available in any color, and an extensive range of options, color's, fabrics, styles and lighting effects, the choices are all yours, ensuring the finished product is exactly what you need. Blend with an existing color scheme or make a bold and prominent statement – whatever you need, we can cater for! Our excellent service covers every stage of your project – from design, through to dealing with legal requirements, planning, site visits and installation. Also, because we care the most, for you and the next generation, we are committed to providing products which will offer protection against sun related damage and look great for years. That's why we're pleased to offer the option of care and maintenance of your shade canopies whenever you require, after they have been installed.
Awnings
Our unique awnings and canopies are perfect for decks, carports, playgrounds or any area you need protection from the sun and rain. New drop down sides/cafe curtains let you create outdoor rooms that can change with the seasons! Enjoy the outdoors the way you want to with an Awesome Awning

Tension Shade
Tension Shafe is a device to create outdoor shade based on the basic technology as a ship's sail. Shade sails use a flexible membrane tensioned between several anchor points. While generally installed permanently, they are cheap and easy to set up. They are usually provided above public gathering places such as seating areas and playgrounds in countries where strong sun radiation makes prolonged stays in the open sun unpleasant or dangerous due to sunburn and skin cancer risk.

Swimming Pool Cover
Pool covers should be used during your swimming season. If you use your pool during the daytime, take off the cover just before swimming and replace the cover as soon as you're done using the pool.
If you use your pool only at night, the effectiveness of a pool cover will depend on whether the evaporation and other losses prevented by the cover exceed the solar gain reduction caused by the cover. The type of cover and the climate affects this balance. In dry and/or windy conditions, the evaporation rate of the pool increases. Therefore, it is generally beneficial to have a transparent or bubble cover on during daylight hours. In warm, humid conditions the evaporation rate decreases. In this case, it may be more beneficial to leave the cover off during the daytime.
THER POOL shades BENEFITS
Besides offering energy savings, pool covers also do the following:
Conserve water by reducing the amount of make-up water needed by 30%–50%
Reduce the pool's chemical consumption by 35%–60%
Reduce cleaning time by keeping dirt and other debris out of the pool.
Play Ground Shade
These shades are adaptable to all different sizes, so no matter what size playground you have there is a sail option for you. Even in tough weather conditions our sails passed the test, standing up to heavy rain and winds of up to 80 miles per hour.
Sail shades are available in many creative triangle shapes. Not only will your students be protected, but also the equipment they play on; shade structures offer a means of protecting your playground equipment from the additional wear cause by full-on sun exposure.

But exactly how much cooler does a shade sail make your playground or park? This is something to consider, since summer is right around the bend. The shade provided by the tension canopy design of our shade sails reduces the temperature by 10 to 15 degrees Fahrenheit. The breathable material of the shades doesn't trap heat under the sails. They even do a good job of circulating the air based on industry standards.
Garden Shade
There are a lot of different definitions of sun levels, and they can be just as confusing to beginning gardeners as they are to seasoned ones.
I put the sun into the following categories: Full Sun, Partial Sun / Partial Shade, Dappled Sun, Full Shade.
It's a good idea to know your sun. I recommend monitoring your garden beds every hour, from 9-5 to keep from guessing how much sun or shade your garden receives. It's also best to do this during times specific plants are growing. Daffodils, for example, grow and flower best in full sun, yet they do well under the canopy of a deciduous tree. If you base the amount of sun in that bed during the summer, you would fail to recognize that the area under the canopy will be sunny in spring when the bulbs are blooming, and before the tree leaves out.

Although determining if a location will meet your plant's sun requirements is not an exact science, it will give you a good idea of each garden area's situation. When you go plant shopping, know what plants grow where, making better purchasing choices. Below are some common standards for sun exposure.
Gasbo
Gazebos include pavilions, kiosks, Alhambra's, belvederes, follies, pergolas, and rotundas. Such structures are popular in warm and sunny climates. They feature in the literature of China, Persia, and many other classical civilizations. Examples of such structures are the garden houses at Mont acute House in Somerset, England. The gazebo at Elton on the Hill in Nottinghamshire, thought to date from the late 18th or early 19th century, is a square crenelated, brick and stone tower with an arched opening. It is part of an extensive system of red-brick walled gardens.[2] In contemporary England and North America, gazebos are typically built of wood and covered with standard roofing materials, such as shingles. Gazebos can be tent-style structures of poles covered by tensioned fabric. Gazebos may have screens to aid in the exclusion of flying insects.

Tents
Tents are used as habitation by nomads, recreational campers, and disaster victims. Tents are typically used as overhead shelter for festivals, weddings, backyard parties, and major corporate events. They are also used for excavation (construction) covers, industrial shelters
Military
Armies all over the world have long used tents as part of their working life. Tents are preferred by the military for their relatively quick setup and take down times, compared to more traditional shelters. One of the world's largest users of tents is the US Department of Defense. The US Department of Defense has strict rules on tent quality and tent specifications. The most common tent uses for the military are temporary barracks (sleeping quarters), DFAC buildings (dining facilities), field headquarters, Morale, Welfare, and Recreation (MWR) facilities, and security checkpoints. One of the most popular military designs currently fielded by the US DoD is the TEMPER Tent.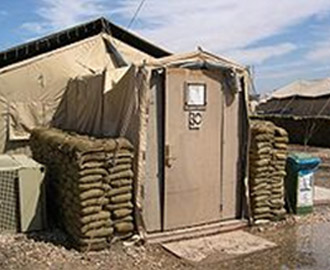 Canopy
Canopy is an overhead roof or else a structure over which a fabric or metal covering is attached, able to provide shade or shelter from weather conditions such as sun, hail, snow and rain.
Architectural canopies include projections giving protection from the weather, or merely decoration. Such canopies are supported by the building to which they are attached and often also by a ground mounting provided by not less than two stanchions, or upright support posts. Canopies can also stand alone, such as a fabric covered gazebo or cabana. Fabric canopies can meet various design needs. Many modern fabrics are long-lasting, bright, easily cleaned, strong and flame-retardant. This material can be vinyl, acrylic, polyester or canvas.[2] Modern frame materials offer high strength-to-weight ratios and corrosion resistance. The proper combination of these properties can result in safe, strong, economical and attractive products.